The farm was built around 1790, gradually growing and developing under the influence of the Wilhelm Menzenbach family
2022-04-12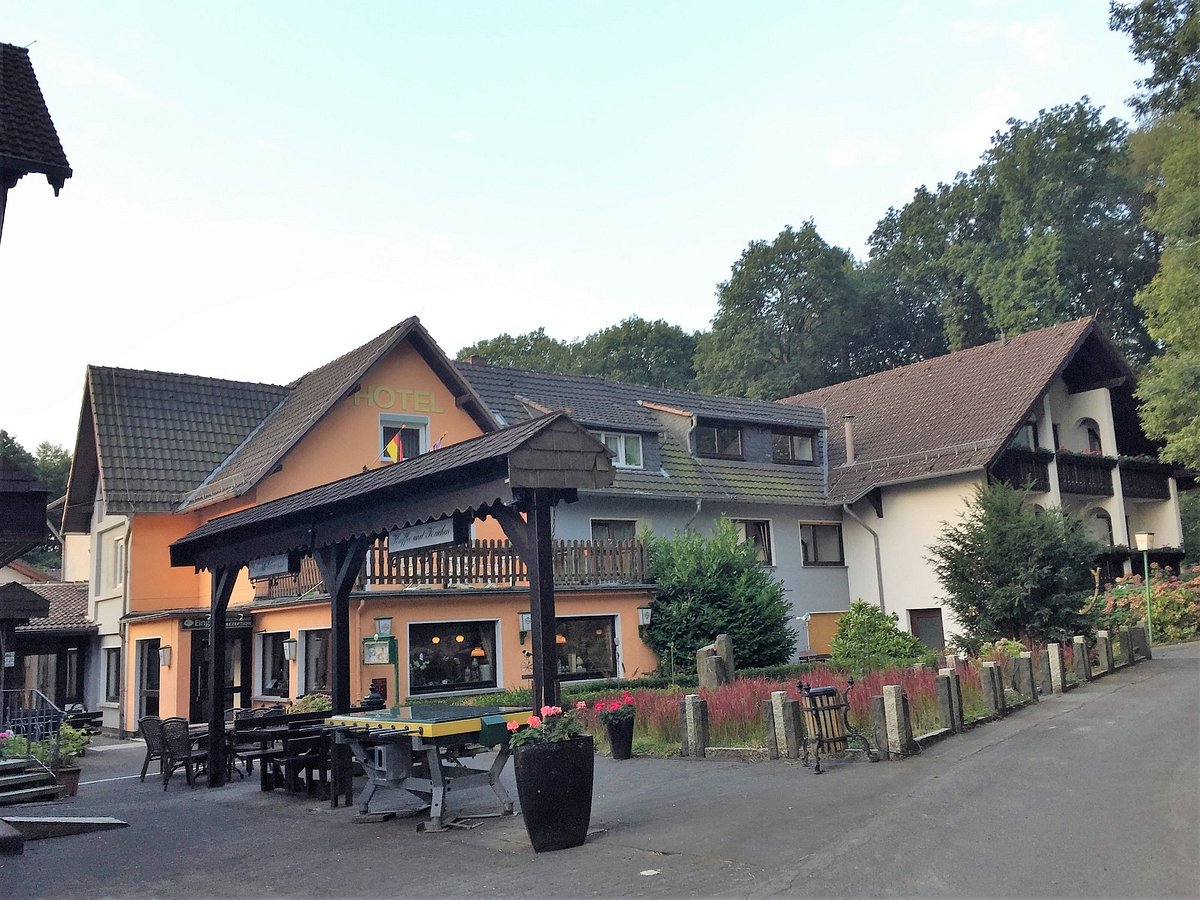 About Us
The hotel has 2 restaurants, 3 terraces (1 partly covered), our lounge where you can relax, meeting rooms, a Bierstübe, an outdoor bar and a sunbathing area with fruit trees. We would like to welcome you to our `Paradise` located in the beautiful Westerwald.
Our beautiful house is located in the middle of the woods and yet only about 7 km from the Autobahn A3. This makes us easily accessible for your upcoming wedding, (company) party, meeting or (team building) workshop. In addition to the large lounge, we have several rooms.
The surroundings of the hotel are ideal for many kilometers of walking pleasure or, for example, cycling along the Rhine, Sports enthusiasts with a mountain bike, We are in the middle of the woods! but also by motorcycle or car. You can quickly reach the famous cities in the area such as Koblenz, Bonn, Köln and Limburg on the Lahn.
We have selected this beautiful place and would like to share it with you. The farm was built around 1790, gradually growing and developing under the influence of the Wilhelm Menzenbach family. Since the 1970s, it has been expanded as it is today.
Facilities
Deer park with about 40 to 50 deer
Parking space large enough for about 60 cars and space for buses
Some garages available for motorbikes – bicycles
Front desk
Restaurants
Bar
Outside Bar
Terrace – courtyard / Patio

Terrace – partly covered, with heating for the cool evenings!

beer garden

Handicapped toilet

Wardrobe

toilet room

Lying and playing field

Various areas for motorcycle clothing (clothes drying)

Charging option for 'electric' bicycles

Meeting room/workshop rooms for up to 150 people

Full service apartments with kitchen and living room

Lounge with Billiards – Beamer – Sound system

Orchard with fruit trees and swing benches

Free WiFi in the `public areas including bar-restaurant-lounge, terraces and rooms

Washing-drying service costs obligatory

Baby bed € 5 per night

Pets are allowed, € 8 per dog per night
Rooms
1- to 4-person rooms and apartments for up to 7 people
TV with Dutch-German channels
Bathroom with shower, toilet, sink, hair dryer, etc
Sitting area with chairs or sofa
writing table
Safe
Wardrobe
Non-smoking rooms (Smoking is not allowed in the hotel, but allowed on the balconies and terraces)
4 x Wheelchair accessible rooms, including raised toilet – adapted shower, etc. shower chairs on request
Balcony or seat in most rooms
Some rooms with a laminate floor for pets, these are located on the edge of the forest. (pet on request)
The internet range is not yet available in all rooms, our house is in the middle of the woods, so the range is not always good. Fortunately, the telephone providers keep inventing better telephones and faster internet for Europe.
Layout of the Hotel
Our building with the most rooms spread over 3 floors. View of the Orchard and Deer Park. Easily walkable wide stairs are located in the stairwell. 8 rooms on the ground floor, the other rooms on the 1st and 2nd floor.
No elevator. All rooms are comfortably furnished, each with their own bathroom. Furthermore, among other things, TV, seat and wardrobe. All double rooms have a covered balcony with seating. Unfortunately, the single rooms do not have a balcony.
8 x Double rooms in the 'West side', built entirely in 'Chalet' style, next to the main building directly in the woods, all with their own 'front door'. So from your room you are directly outside in the forest and you do not have to go through the hotel. Frequently requested by our guests with a pet, because of the quiet location, and straight into the forest.
`Altbau` The `Altbau` is the oldest part, where it all started in 1932 from inn to bar in the 50s. The Bar with its typical `German` sofas, the restaurants, reception, kitchen and storage rooms are here accommodated. Here is also the entrance to the apartments. The front faces the North and the South side is adjacent to the courtyard (Waldterrasse) this courtyard / patio is enclosed on 3 sides, overlooking the forest. The first apartment for 6-7 people was ready in mid-2014, 2 more followed in June 2015, for 4 people. There are also 3 double rooms with bathroom. This makes the group accommodation suitable for up to 22 people. The reception will be realized here on the ground floor in 2021.
Restaurants

From the reception and bar you walk straight ahead, past the buffet, with our coffee corner. Our 2 restaurants are located after a few meters on both sides. Fully furnished in German style. It has a homely atmosphere, waking up quietly at our breakfast buffet, having lunch or dinner. Are you with a 'large' group? We have room for at least 100 people here.
Waldterrasse/Patio
Enclosed by the lounge, toilets and our second restaurant is our patio/courtyard or Waldterrasse. Here you can sit and enjoy, soon it will be wonderful in terms of temperature. Because you are enclosed from 3 sides. The 'open' side on the West gives you a view of the forest with the warm evening sun.
Toilets
From the Bar and both Restaurants you walk towards the lounge. In the spacious hallway there is immediately a handicap toilet, next to it the 'Ladies' and 'Men' toilets.
South Wing
The 4th building, built with love in 1993, has 12 beautiful hotel rooms, and can be reached directly from the reception. But also outside, through the parking lot, with its own entrance to reach the 2 handicapped rooms. In addition to these 12 spacious double rooms, each with its own balcony or terrace, the Lounge and several rooms and the toilet facilities / cloakroom are located. This beautiful building is described in detail further on on our site. Additional entrance on the ground floor, to reach the lower 4 rooms. Part of our own walking path, completely paved and lighting in the garden, runs from the South Wing, the forest on one side and the house on the other.
Meetings and Seminars
Our beautiful house is located in the middle of the woods, completely secluded without nuisance from traffic, and yet only about 7 km from the Autobahn A3. This makes us easily accessible for your upcoming wedding, party, company party, meeting or (team building) workshop. Both your workshop and party can be held indoors or outdoors. In addition to the large lounge, we have several rooms. There is also 2 Ha. meadow with our orchard and 130 Ha. forest available for many activities.
About The Hotel
The history of this hotel dates back to 1788 originally build as a farm and grow slowly into a hotel as it is today with 65 rooms. Located in the forest with deer in the beautiful landscape of the Westerwald . Only 30 minutes from Bonn.
Discover one of the most beautiful West German landscapes, the Westerwald, with its primeval forests and wildly romantic nature. Recharge your batteries and pamper body and soul, far away from the daily hectic. We are located less than 65 km from Cologne, the wonderful cathedral city on the Rhine.
The hotel has 2 restaurants, 3 terraces (1 partly covered), a lounge, meeting rooms, a Bierstübe, an outdoor bar and a sunbathing area with fruit trees. This makes us easily accessible for your upcoming weddings, company gatherings, meeting or (team building) workshops.
Information:
Freehold property
The hotel has 65 rooms, of which 62 are for hotel purpose and 3 are staff rooms- The following rooms allocations are:
2 Suite2 (2 beds each)

2 Full service Apartments (2 rooms, 4 beds each)

1 Full service apartment (3 bedrooms, 6 Beds)

4 Single rooms

4 Twins

12 Double rooms in Building Wilddieb Built in 1983, renovated 2021

12 Double Rooms in Building South, Built in 1993

11 Double Rooms in Building West, Built in 1986, renovated 2021

8 Double rooms in Main Building, Built 1973, Renovated 2020

2 Family rooms in Main building, 4 Beds Each
TOTAL OF 124 BEDS
All rooms have private bathrooms, Foreign TV, Wifi and 90% has Balcony with sitting area

The 4 Buildings have individual heating systems. 2 with Oil, and 2 with Gas

All systems/ Burners are replaced in the last 8 years and installed/ maintained professionally each year

Gas installation propane Tank is leased with the gas supply company

Air extracting installation for meeting rooms / lounge as required for Covid, ( 2021)

All licenses are in place.

We placed Solar Panels on the roof in 2021.

No lease contracts for any equipment or Brewery.

Rental agreement with church to rent 2000m2 land for 500 Euro per year Where live stock is grazing and parking space is for 60 cars and Busses

2 Restaurants ( 40 and 50 seats)

1 Lounge (100 seats, Biliard, dancefloor and bar)

1 Bar at entrance (30 seats)

1 Bar in Basement Wilddieb (not in use, 30 seats)

1 terrace 200 seats, partially roofed and heated

1 terrace 50 seats, partially roofed and heated

2 Meeting rooms / Workshop rooms 80m2 Each

1 fruit garden with swing chairs and goats 2000m2

Kitchen area 200m2 with walk in fridge/freezer

Stockrooms 5
All inventory included in the sale (besides some private paintings/ clocks and attributes).
Property is running and profitable. We operate 9 out of 12 months because we choose to have time off. ROI 200 000 ( 2021)
Owners can lease back 2 years for 200K a year, or stay for handover.
Obersteinebach is a municipality in the district of Altenkirchen, in Rhineland-Palatinate, in western Germany.