We invite you to take your shoes off and kick your feet up in the various lounging areas on the property
2022-04-22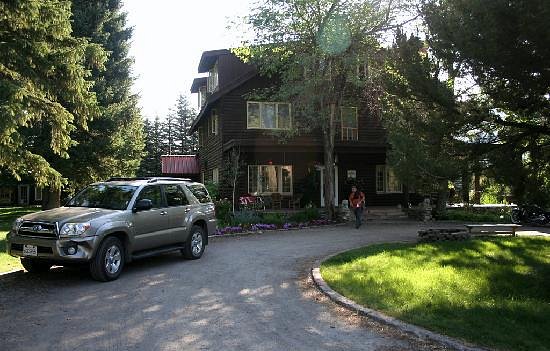 About Us
Whether you want privacy or to connect with similar travelers in this centralized location, you are sure to find a comfortable unique experience on this wondrous estate.
The house sits on a half acre lawn with a tennis court and parking lot to the right of the home. It has 3 stories, accessible only by stairs. If you can't take the stairs, Room 9, the Camas Lily, is a cozy option and is the only room on the first floor. Every room has its own Air Conditioning, TV, and bathroom. The first floor has 2 large living rooms with fireplaces, a large dining room with coffee/tea bar and a large veranda with seating to enjoy the mountain views. We welcome guests to stroll around the large yard or play a game of horseshoes or croquet. Cyclists and walkers are encouraged to enjoy the bike path which is just a stone's throw north of the property.
History
The Inn was originally built as a private residence in 1915 for James McDonald and his Hailey bride, Beulah Lamb. McDonald's father was the Director of Standard Oil in London and a partner of John D. Rockefeller. The builder was a man named Jack Rutter, who constructed many of the buildings in Hailey, some of which are still standing today, such as the Liberty Theatre, Hailey Hotel, and the Masonic Lodge. McDonald's house was one of his first major projects in the valley.

The house was purchased by the Fox family as a private residence in the 1930s, and after they departed, it served as a Mormon Church. The family purchased the house in 1961 and lived there for a number of years. After the they departed, the house was purchased by Sonja Tarnay in the 1980s, who restored and remodeled the house to serve as a bed and breakfast inn.
Accommodation
We have eight lovely rooms to choose from. While each room is unique they all offer private bathrooms, air conditioning and television.
Our goal is to give our guests a unique and memorable lodging experience by providing comfortable rooms and sense of home.
The newest renovation here is an A/C unit in each room to keep you and yours cool and comfortable. The Inn is 3 stories high with 4 rooms on the second floor and 4 rooms on the third floor accessible via stairs. The only room on the first floor is the Camas Lily which is also the only Dog-friendly room.
James MacDonald Suite
This spacious two-room suite is named after the original owner of the house. This romantic setting features a sitting room with a large wood-burning fireplace and loveseat. A beautiful wooden armoir displays a 32" TV. An Air Conditioning Unit keeps the room cool while a Mini Fridge allows for food and beverage storage. The private bathroom features an extra deep tub with a shower, ideal for soaking. This room is located on the second floor accessible via stairs.
Della Mountain Room
This peaceful room features a lovely queen size four-poster bed. There are excellent views of Mountains Della and Carbonate to the west. The private bathroom is highlighted by an extra deep tub with a shower; perfect for a relaxing soak. Amenities include a 32" TV, air conditioning unit, walk-in closet and mini fridge. This room is located on the second floor accessible via stairs.
Draper Preserve Room
This spacious room features two twin sleigh beds, perfect for friends and relatives. The room includes a private bathroom with standing shower, 2 armchairs and a dresser. Other amenities include an air conditioning unit, a 32" TV and closet.
Alturas Lake Room
This spacious room has a king size bed. Beautiful views of Mountains Della and Carbonate can be seen through the western window. The private bathroom includes a tub and shower. Other amenities include an air conditioning unit, mini-fridge, large dresser, and 32" TV. This room is located on the third floor accessible via stairs.
Mountain Bluebird Room / Trinity Lake Room
This room features a large, very comfortable hand-crafted king-size bed as well as a Twin-size day bed. The Trinity Lake Room features an abundance of windows to offer fantastic views of the mountains to the west. It is located on the third floor accessible via stairs and features a private en suite bathroom with a shower/tub. Other features include and armchair, 32" TV, mini-fridge, and Air Conditioning unit.
Song Sparrow Room
This lovely room features a queen-size bed. Indirect sunlight and a view of the largest portion of the lawn offers a calming feel. A 32" TV, armchair and table are also included. This room is located on the third floor accessible via stairs and has a private en suite bathroom with a stand-up shower.
Osprey Room
Located on the third floor accessible via stairs, this south-facing room has a queen-size bed. The large windows allow plenty of sunlight while providing views of the mountains and valley to the south. Other amenities include a 32" TV, chair, dresser and Air Conditioning Unit. This room has a private en-suite bathroom with a stand-up shower.
Camas Lily
This beautiful first-floor room is adjacent to the side entrance/exit. The only room in the Inn to have vaulted ceilings, it is furnished with a queen-sized bed, armchair and armoire with TV. An Air Conditioning unit keeps the room comfortable on hot summer days. A walk-in closet provides adequate storage. The private en-suite bathroom features a shower and tub. This is our ONLY dog-friendly room and the ONLY room on the first-floor.
Restaurants
Enjoy dining in the local scene. Wood River Valley boasts multiple wonderful options to choose from.
Weddings & Group Events
Keep us in mind when you are planning your big day. This gem sits within the beautiful Wood River Valley mountains. Our antique, cozy estate sits on a picturesque lawn nestled in the valley makes a grand scene for events.
Our estate is a perfect setting for weddings, receptions, and other events, both indoor and out. Small business conferences and other gatherings of 30 to 40 people may be hosted inside the Inn itself. For very large groups the lawn area provides the ideal setting for a party or reception in an intimate setting nestled among mature trees and with the Inn as a perfect backdrop.
Great Location
The Sun Valley area on averages receives about 205 days of sunshine per year with an average temperature of 75 degrees in the summer and 23 degrees in the winter. They are also surrounded by a lot of really great activities like hiking, biking, fishing and more.
Things To Do
Hailey, Idaho is a great place to enjoy the great outdoors. You will love the various activities like hiking, biking, white water rafting, and some beautiful hot springs. Make sure that you plan your vacation getaways to include these great attractions, otherwise, you will miss out on what the Hailey, Idaho has to offer.
Hailey
Hailey is a city in and the county seat of Blaine County, in the Wood River Valley of the central part of the U.S. state of Idaho. The population was 7,960 at the 2010 census, up from 6,200 in 2000. Hailey is the site of Friedman Memorial Airport (SUN), the airport for the resort area of Sun Valley/Ketchum, 12 miles (19 km) north. The town of Bellevue is a few miles south. From 1882 to 1895, Hailey was the county seat of now-defunct Alturas County.
The city is named after John Hailey, a two-time Congressional delegate from the Idaho Territory.
Geography
Hailey is located at 43°30′54″N 114°18′23″W (43.514937, -114.306251), at an elevation of 5,318 feet (1,621 m) above sea level.
According to the United States Census Bureau, the city has a total area of 3.65 square miles (9.45 km2), all of it land.

Hailey has a continental Mediterranean climate (Köppen Dsb). Winters are cold and snowy: there are an average of forty-four days each year which fail to top 32 °F or 0 °C, whilst 199 nights fall below freezing and nineteen nights between November and March will fall to or below 0 °F or −17.8 °C. Spring warms up slowly, with snow falling as late as May. Summer is hot during the day, but cools off into the 40s or 50s at night. Highs reach 90 °F or 32.2 °C on only 15 days per year, and only July has made it to 100 °F or 37.8 °C. Freezing nights can happen any time of the year, even in July and August. There is little rain, coming only as isolated showers or storms a few times per month. Most days are sunny and this is the driest part of the year. Fall starts warm in September and then quickly cools off. Snow has fallen in September, but usually holds off until October. Early fall is dry and sunny like summer. Days in the 70s can happen well into October, but −20 °F or −28.9 °C has been recorded in November. The lowest temperature recorded was −28 °F (−33.3 °C) on January 12, 1963 and the record high is 100 °F (37.8 °C) on July 19, 1953. Precipitation falls primarily as snow in winter and as thunderstorms in late spring. The rest of the year is mostly dry.
Demographics
2010 census
As of the census of 2010, there were 7,960 people, 3,065 households, and 2,053 families residing in the city. The population density was 2,180.8 inhabitants per square mile (842.0/km2). There were 3,527 housing units at an average density of 966.3 per square mile (373.1/km2). The racial makeup of the city was 80.2% White, 0.2% African American, 0.7% Native American, 0.8% Asian, 0.1% Pacific Islander, 16.2% from other races, and 1.9% from two or more races. Hispanic or Latino of any race were 28.1% of the population.
There were 3,065 households, of which 41.0% had children under the age of 18 living with them, 51.1% were married couples living together, 11.0% had a female householder with no husband present, 5.0% had a male householder with no wife present, and 33.0% were non-families. Of all households 25.8% were made up of individuals, and 6% had someone living alone who was 65 years of age or older. The average household size was 2.58 and the average family size was 3.15.
The median age in the city was 35.1 years. 28.6% of residents were under the age of 18; 6.7% were between the ages of 18 and 24; 29.8% were from 25 to 44; 28.3% were from 45 to 64; and 6.5% were 65 years of age or older. The gender makeup of the city was 50.0% male and 50.0% female.
Outdoor Life
Hailey is surrounded by the Sawtooth National Forest. Activities such as hiking, biking, skiing, snowboarding, BMX riding, skateboarding, horseback riding, ice skating and fly fishing are popular in Hailey. Hailey was home to the Sun Valley Polo Club until 1999.

West of town, Hailey has its own ski hill called Rotarun Ski Area, which is much smaller than its local cousin at the Sun Valley Resort.
Other mountains in Hailey are Carbonate, Red Devil Peak (6594 ft.), and Della (6729 ft.). These mountains are popular for hiking, mountain biking, dog walking and other outdoor activities.